The Start of Fine Art Editing. A Beginners Workshop.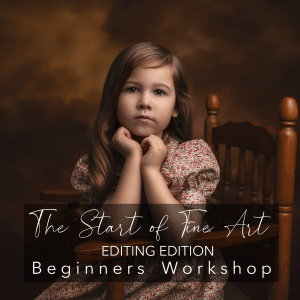 STUDIO EDITING.
Starting 31st January 2022
The most frequent question I get is "Where do I start?"
I have thought long and hard about how I want to answer this question.
So, I have worked on an amazing workshop for you. We will break down a Fine Art Edit, from start to finish. Short, easy and informative tutorials.
You will be able to work at your own pace and get lifetime access to all video content. You will be able to edit along with each tutorial and receive feedback on your edits.
I will briefly discuss my lighting, posing and styling for the image we edit.
We will work together in a private facebook group. The link is on this page once purchased. Please answer all the questions to be accepted into the group. You will NOT be emailed any links, you are responsible for joining the group and joining on the start date.